Win a Canon PowerShot A570 IS Digital Camera!
Because we only want the highest quality of pictures and videos on Picturepush.com, we will be giving away fantastic prices rewarding the most beautiful pictures you can make!
Currently we are giving away the new Canon PowerShot A570 IS!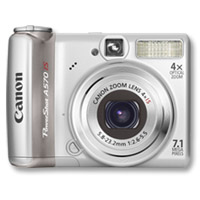 Register on Picturepush.com and put all your pictures on! The winner will be selected from the most beautifull photos. (If you do not upload your photos you cannot win!)
Conditions and disclaimer: You need to be a member of Picturepush.com. If you win the price, Picturepush.com will send you one mail to tell you this.