In album:

Heiting & Irwin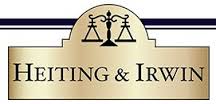 Heiting & Irwin

5885 Brockton Avenue Riverside, CA 92506
(951) 682-6400
contact@heitingandirwin.com
http://www.heitingandirwin.com

Heiting & Irwin is a personal injury law and workers' compensation firm in Riverside, California working with clients throughout the Inland Empire. We have recovered over $300 Million for our clients since 1976.
Comments
Add Comment
Please login to add comments!